No. 7
15.02.21
"You are the bows from which your children as living arrows are sent forth" by Kahlil Gibran
I'm afraid I'm a little bit late with my post this week… I arranged for my website to be redesigned, which didn't go so well! Long story short, we are back at 'Square One' with that and we'll be beginning 'Take 2' this week; never mind, we're here now!
I can't believe we are halfway through February already… somehow the lockdown seems to be endless – Round 3 is the hardest for me by far – but the months are flying by. Baby F is almost 6 months old; a realisation that caught me by surprise and brought tears to my eyes. The end of Maternity Leave looms ever closer: I don't feel like it ever really began given the current climate, yet since I've been at home since March, it's also the longest I've ever been away from work and the fear that I've forgotten who I am when I'm Work Mummy keeps creeping into my mind.
My mum got her first jab this week, so that's both of my parents now, which is reassuring. It's given me a feeling of hope for when I return to the classroom at the end of my Maternity Leave. I was terrified that when I went back to work, leaving the children with them, since they are our childcare, I would be putting them at risk but hopefully we will all be in a much safer position now.
Since I am aware that my shoulders have felt a little heavier and my frown a little deeper in recent days, this week's #LivingArrows photos document some of the moments that made me smile…
M has been enjoying her dolls. I think she felt bad for being a little rough with this one and maybe gave it CPR?!
We enjoyed some more arts and crafts… since we couldn't find any rainbows outside we made our own with Elmer! I had a little play making some posters rainbow-related posters for the playroom, which you can find here, if you'd like a copy.
And of course, because it's Groundhog Day here, we did some more baking; although Little M was more interested in playing with the ingredients in her sensory tray and helping me to tidy up by licking the spoon and bowl at the end. You can find the recipe for our yummy Easy Easter Slice here.
As for Baby F, she's as beautiful as ever, loves sucking her toes and is completely obsessed with her big sister already. She smiles and giggles when Little M pays her attention, she hates it when she leaves the room and she's beyond frustrated that she can't get up to chase after her!
So many photos this week… sorry, I couldn't choose!
Thank you for reading! I look forward to catching with your #LivingArrows either through your own posts or comments upon this post.
Living Arrows is a weekly linky, hosted by the fabulous Donna from What The Redhead Said, celebrating childhood. The project originally took its name from a poem by Kahlil Gibran, "You are the bows from which your children as living arrows are sent forth". Every Monday we will share a photo/photos from the previous week that capture a moment of childhood.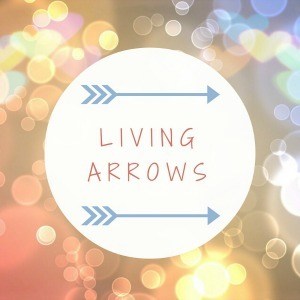 If you've enjoyed reading this post, we'd love for you to follow our adventures on our social media channels or become part of our family at
SHARING IS CARING
x