No. 8
22.02.21
Living Arrows Lockdown Life
"You are the bows from which your children as living arrows are sent forth" by Kahlil Gibran
Welcome to another week in our lives!
I am loving this project, I wish I'd known about it when Little M was born… I think my posts would have been MUCH more interesting back then. So another week has screamed by leaving me with little different to write about. It's very much still Groundhog Day here, par for the course I suppose #lockdownlife. Tell me I'm not the only one!
But… perhaps it's all about to change?
I'm not so sure that I'm happy about that either. Some people can't be satisfied, eh?!
Mr WMD will be returning to work at the end of the week, schools are preparing for a sudden influx of pupils and who knows what else Boris will decide. I know that many will welcome positive news tonight but I am just so hoping it is the right time; I really don't want to find ourselves back in lockdown again come the summer. It's fair to say I'm feeling anxious and apprehensive. I want the freedom, of course I do, but what then about the expectations to go places, do things and meet up in groups, which I am still not comfortable with. It probably sounds really strange, I can only really explain it in terms of having PTSD from the whole thing. Those first few months in 2020 frightened me so much that I don't know how to recover from it properly, to be able to go back to normal.
With the inclement weather we've spent most of our time indoors despite it being half term week. Most unlike us and very frustrating! I'm really missing visiting all the local beaches and National Trust properties nearby like Killerton House. It's not that I feel unsafe going to them but the properties are all a fair distance away from us, so I don't think we are allowed with the lockdown restrictions and we have our own beach to visit so it seems wrong to venture further afield. We are incredibly lucky where we live – gorgeous local countryside and a beautiful coastline, but it is getting a bit tedious going to the same place all the time, or just wandering round the block.
I had a bit of a 'moment this week'; I felt like a pretty pants mum of two. I didn't take many photos of our week and I think it was probably because I was feeling a bit like poo. I did manage to pull myself together and capture Little M enjoying some more arts and crafts…
.
I had spied lots of people sharing their Easter decorations on Instagram so I was in the mood for making some with Little M.
I've really enjoyed Baby F this week – when don't I? – she's growing up too fast though.
She loved rolling the ball back and forth with our noses!
Thank you for reading! I look forward to catching with your #LivingArrows either through your own posts or comments upon this post.
Living Arrows is a weekly linky, hosted by the fabulous Donna from What The Redhead Said, celebrating childhood. The project originally took its name from a poem by Kahlil Gibran, "You are the bows from which your children as living arrows are sent forth". Every Monday we will share a photo/photos from the previous week that capture a moment of childhood.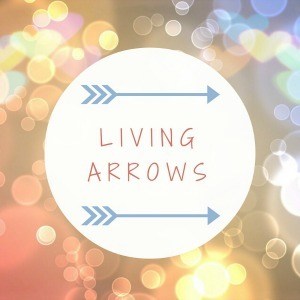 If you've enjoyed reading this post, we'd love for you to follow our adventures on our social media channels or become part of our family at
SHARING IS CARING
x